​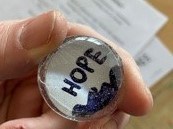 A project to engage students in understanding their own mental health and wellness through art has had a positive impact on students at three elementary schools.
The Mental Health, Regulation and the Power of Art Project was a creative, fun, safe, and strengths-based approach to exploring mental health and wellness for senior students and staff at Pleasant Hill, King George, and Howard Coad schools during the 2020-21 school year.
The project, guided by counsellors Marnie Carlson and Jason Johnson, offered an embedded counselling model that included two senior classrooms at each of the three schools. It involved weekly classroom presentations and art opportunities during the course of the school year that used a holistic approach to explore physical, mental, emotional, social, and spiritual dimensions of mental health and wellness.
"As elementary school counsellors supporting the mental health and wellness of the students and staff within our respective schools, we wanted to incorporate art as a strategy for building self-regulation and emotional safety and wellbeing," Carlson said. "Given, the complexity of the COVID-19 pandemic this school year, supporting the social/emotional, mental, spiritual, and physical safety of our students and staff was paramount."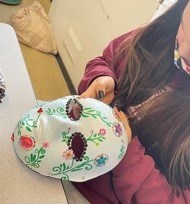 The use of expressive arts therapeutic strategies is an approach that has been an effective intervention to support students who have experienced or been impacted by trauma. It has also been helpful in building self-regulation and coping strategies for all students, which in turn serves to build their capacity to be successful at school.
The project, which was funded by a Programs of Excellence grant from the Saskatoon Public Schools Foundation, allowed students to look at identity, self, mental and physical wellness, emotional literacy, and emotional safety. Through the project's creative aspect, students engaged in understanding of individual identity in relation to peer connections as well as the impact of health and wellness within the wider community.
"Exploring mental health and wellness through different mediums of art provided students with diverse opportunities to build regulation, resilience and reflection. The project provided enhancement within the curriculum through building on cross-curricular connections through the medium of art," Johnson said. "Students created meaningful art within all of the topics explored over the course of the school year."
The use of expressive arts therapeutic strategies expanded the ways to support students in areas such as regulation, understanding of feeling vocabularies (uncomfortable vs. comfortable), establishing emotional and physical safety, exploring healthy relationships, personal boundaries, self-esteem, grounding and coping, worry/anxiety, grief, and loss.
The approach to learning and ways of sharing and dealing with emotions had a positive impact among students and in the classroom as a whole, according to reflections shared by the teachers whose students were involved in the project.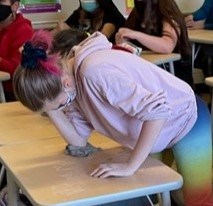 "The different learning that has gone on in my classroom has opened students up to discussing and learning to cope with their wildly different emotions that can experience day-to-day or even hour-to-hour. It has made a safe space to show students that we all experience similar behaviours, emotions, and mental capacity. I appreciate how my students have felt cared for and heard. This art therapy program has brought a sense of calm to my classroom," one teacher noted.
Said another: "It has definitely helped me to model a better understanding and a willingness to be open and an advocate for their emotions, along with mine. I definitely feel more confident in expressing myself and to help my (students) to express themselves. The calm atmosphere promotes a creative and safe space to make mistakes, be artistic, and just bring emotional levels down in the classroom."
Implementing the project classroom-wide within all three schools provided the opportunity to impact larger groups of students, according to Carlson and Johnson.
"Through implementing support within the whole classroom setting, we had the opportunity to directly support teachers in regard to health curriculum and outcomes," Carlson said.
"Students actively engaged in the learning and build capacity in understanding their own mental health and wellness,' Johnson added. "We measured our success through the participation of students and the qualitative conversations that resulted, and it was fun."